David Kalakaua's Trip to Washington, D.C. in 1874

David Kalakaua, the elected leader of the Hawaiian Islands, made a diplomatic mission to
Washington, D.C., which began on November 17, 1874 and ended on February 20, 1875.
The purpose of this mission was to aid in the negotiation and consequent signing of a
Reciprocity Treaty with the United States government. The treaty would allow the dutyfree
sale of Hawaiian sugar in the United States. Conversely, Hawaii would permit U.S.
agricultural and manufactured goods to enter the Hawaiian Islands duty-free. It should be
noted that no previous Hawaiian Head of State had been able to obtain such a concession
from the United States government.

Kalakaua's visit to the capital was a time of great fanfare. His tour was the first visit of a
foreign Chief of State or Head of Government to Washington. Even before his arrival an
official U.S. welcoming party, which included Secretary of State Hamilton Fish, met the
train carrying the entire Hawaiian delegation ten miles outside Washington and travelled
with them into the city. He brought a full entourage of Hawaiian luminaries including
Chief Justice Elisa Hunt Allen, Hawaii Supreme Court, John Owen Dominis, Governor
of Oahu and H.A. Pierce, U.S. Resident Minister to the Hawaiian Islands.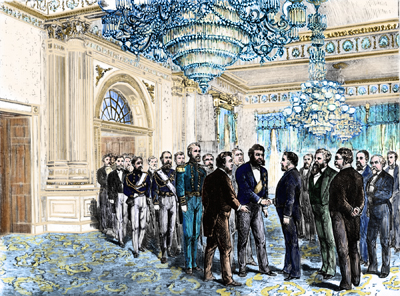 David Kalakaua's greeting was one of many events scheduled for the official portion of
his trip commencing on December 12 and continuing through December 23. This was the
very first state dinner hosted at the White House for a foreign dignitary. This event is
captured in an engraving taken from Frank Leslie's Illustrated Almanac, depicting
Kalakaua's 1874 meeting with President Ulysses S. Grant.
Kalakaua and suite paying a formal visit to the President in the Blue Room of the White House.

David Kalakaua would make other visits to the United States, and in 1881 during one
segment of an extensive global tour, he arranged to meet with Thomas Edison at his 5th
Avenue office in New York City. Kalakaua himself an inventor, had a special interest in
Edison's incandescent lamp. Edison took him to his lab in Menlo Park, New Jersey. Their
time together and following personal correspondence allowed both men the opportunity
to discuss relevant questions of science and technology. That meeting with Edison
planted the idea of the "electric light" in Kalakaua's mind. Some five years later, on the
occasion of his 50th birthday November 16, 1886, Kalakaua completed the installation of
a plant on the grounds of 'Iolani Palace equipped with a small steam engine and turbine.
With this system in place, 'Iolani Palace became the first royal residence in the world
illuminated by electricity.
Peter Salter